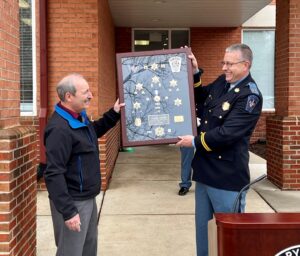 The women and men of the St. Mary's County Sheriff's Workplace introduced Lt. Kenneth Cusic #30 along with his Remaining Salute on Friday, celebrating a long time of service to the company and to the general public.
Lt. Cusic served on the St. Mary's Sheriff's Workplace for 36 years and 4 months. He retires on March 1.
Lt. Cusic started his profession on Oct. 14, 1985 after graduating from the Prince George's Police Academy and served in lots of capacities within the St. Mary's County Sheriff's Workplace together with the Patrol Division, the K-9 Unit, the Vice/Narcotics Division and because the first commander of the newly fashioned Administrative Division. Lt. Cusic additionally served because the Assistant Sheriff from 2002 to 2006.
"Lt. Cusic, from a grateful county and your brothers and sisters on the Sheriff's Workplace, we want you each happiness and good well being in your well-deserved retirement," Capt. David Yingling, Patrol Division Commander, instructed Lt. Cusic. "Additionally, thanks to Jane and your great household for sharing him with us and the residents of St. Mary's County. This company and county are a greater place resulting from their sacrifices and your service," Capt. Yingling mentioned.